Dry Ice Blasting is a revolutionary, environmentally friendly, high pressure cleaning method where 3mm Dry Ice pellets are accelerated in a pressure air stream and directed at a surface in order to clean it.
Dry Ice WA specialise in the production of High Density 3mm Dry Ice Pellets specifically designed to provide the best performance for Dry Ice Blasting

Dry Ice Blasting is becoming an increasingly popular, environmentally friendly form of high pressure cleaning for a variety of Mining and Industrial Applications.
If you would like to speak to a Dry Ice Blasting Expert to discuss the benefits of Dry Ice Blasting in your operation please contact us.
Applications Include:
Mining. Oil & Gas
Power Generation / Electrical / HVAC
General Maintenance
Foundry
Mould & Mildew
Marine maintenance
Graffiti Removal
Food & Beverage Processing
Printing & Packing
Historical Restoration
Fire Remediation
Bitumen & Asphalt
Aviation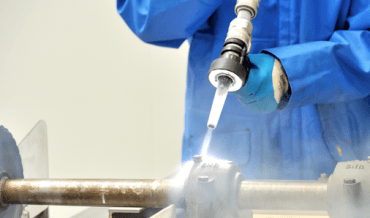 Unique features and Benefits of Dry Ice Cleaning
Dry Ice Blasting is a non-abrasive, non-conductive, environmentally friendly form of high pressure cleaning.
No hazardous chemicals or solvents are used. There is no residual waste left after Dry Ice Blasting
The unique feature of Dry Ice as a cleaning material is that it vaporises on contact with the surface to be cleaned. Treated surfaces are left dry and clean, without any residue of detergents or cleaning materials. As the process is completely dry and non-­conductive, Dry Ice Cleaning can be used where other methods are unsuitable. For example, electric motors and equipment with electric, pneumatic or hydraulic components can be cleaned direct using Dry Ice Cleaning.
The properties of Dry Ice itself make this cleaning system perfectly suitable for industries that require a high degree of hygiene, such as the food processing and pharmaceutical industries.
Dry Ice is a NON-TOXIC, NON-HAZARDOUS, NON-ABRASIVE, and NON-STATIC cleaning medium.
It is a process so versatile that it can perform the full range – from removing dust from delicate electrical wiring to removing layers of heavily encrusted coats of paint on automotive assembly line equipment.
Dry Ice Blasting Benefits Include:
Decrease in Downtime
Dry Ice Blasting can be carried out in-situ and hot in most situations eliminating costly procedures of disassembling equipment in preparation for cleaning, transporting of equipment to a dedicated cleaning area and reassembling. There is no need to dismantle equipment or stop equipment working while Dry Ice Blasting.
Elimination of Equipment Damage
Dry Ice cleaning often eliminates equipment damage. Cleaning methods such as sand blasting leave an aggressive and abrasive effect on the surface. Dry Ice is non-abrasive and does not change a surface's structure. It lifts the contaminants away. Secondly, because equipment can now be cleaned in place, potential damage from moving equipment to and from a dedicated cleaning area is also eliminated.
Elimination of Solvents and Chemicals
Dry Ice is completely non-toxic. As no hazardous chemicals or solvents are used in Dry Ice cleaning, there are no hazardous fumes, toxicity or secondary waste. This can be a critical need for companies complying with environmental factors.
Reductions in Waste Disposal
With other cleaning methods, using solvents, sand cleaning or other means, the cleaning agent becomes a secondary contaminant and must be disposed of as toxic waste along with the primary contaminant. During Dry Ice cleaning the CO2 Dry Ice Pellet vaporizes upon contact so the only waste created is the contaminant itself. This alone can result in significant waste reduction.
Before and After Results