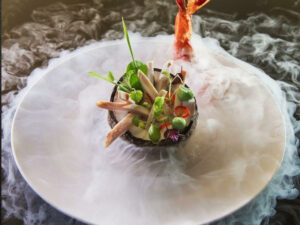 Dry Ice has become a popular way to Dazzle diners and guests with sensational ways to present cocktails and food. Use Dry Ice to create fantastic visual effects with mist and fog.
Dry Ice creates a unique and exciting ambience in bars, restaurants, and function areas. It adds excitement to the occasion and is perfect for weddings, birthdays and other festive occasions.
Dry Ice can be used in a fountain to create a low, swirling mist. A Dry Ice fog can be combined with lighting and music to create special effects. Be limited only by your imagination!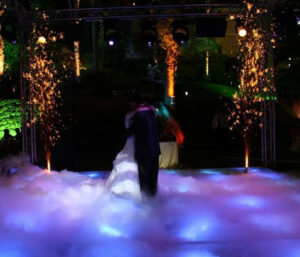 STAGE PRODUCTION AND GIGS
Stage productions are nothing without good lighting and special effects. Adding flowing fog can enhance many shows.

Dry Ice and a fan is a popular option for a dreamy illusion. Dry Ice is placed in a bucket with holes to allow hot water to enter. When the bucket is lowered into the hot water fog is instantly produced.

The resulting water vapour fog is gently blown by a fan and directed to the desired area by an air duct tube. Fog stops whenever the bucket of Dry Ice is pulled out of the water.
This technique can be spread across the floor for parties, weddings and other special events.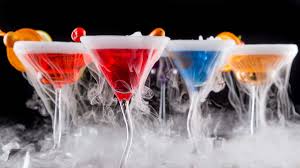 Use Dry Ice to create amazing effects for weddings, parties, birthdays, and Halloween and Christmas celebrations.
Dry Ice WA produces dry ice that is food grade. This means that it is safe to put Dry Ice into beverages for drinking. Use 1kg of Dry Ice for every 3.5 litres of punch at room temperature. The Dry Ice is heavier than ice and will sink to the bottom. The product will do the cooling and must not be eaten or swallowed. Too much Dry Ice will freeze the beverage so use in stages and have extra standing by. The Dry Ice will bubble and give off the most fog when the beverage is at room temperature. When most of the Dry Ice has sublimated, it will surround itself with ice and float to the top.
It is important to remember not to serve drinks that may contain small pieces of dry ice.
Drop 10kg to 20kg of Dry Ice directly into a swimming pool to create a fun fog effect on the water surface.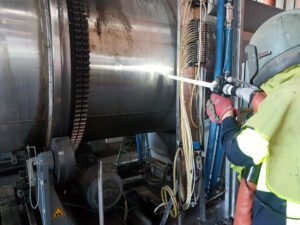 Dry Ice Blasting is a revolutionary, environmentally friendly, high pressure cleaning method where 3mm Dry Ice Pellets are accelerated in a pressure air stream and directed at a surface in order to clean it. LEARN MORE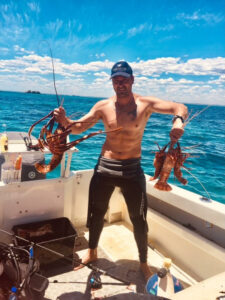 Use Dry Ice to fast-freeze your catch at your next fishing trip.Keep some Dry Ice on the bottom of your esky under regular ice to keep your esky chilled or frozen for longer.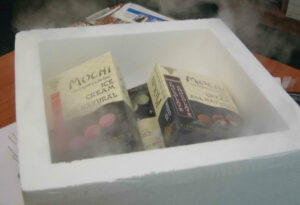 Food Processing & Cooling
When dry ice is used, the atmosphere around the food product is modified. The oxygen level concentration around the food product is reduced as the carbon dioxide concentration increases. This method helps in preventing insects as well as mould and oxidation from destroying the food.
Dry Ice is used in transportation of food to keep temperatures at safe levels. For example, commercial shippers of perishables often use dry ice even for non-frozen goods.
Dry Ice can safeguard valuable food products throughout every stage of operation from manufacturing and transportation to distribution and storage.
Transportation of meats, poultry, fish.
Airline catering
Ready Meals
Medical Products
Seeds
Shrinking Fittings & De-flashing Moulds
Use Dry Ice to shrink metal to slide on fittings, sleeves and bearings
Reduce dents in motor vehicles
Dry Ice will shrink rubber, PVC and vinyl's for easy removal
Mosquito Control
Mosquitos are attracted to carbon dioxide and can be lured using Dry Ice
Pharmaceuticals
Branding livestock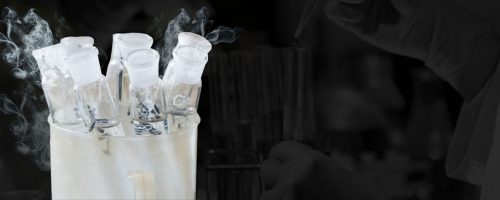 HOSPITALS AND LABORATORIES
Dry Ice is used by medical and pharmaceutical facilities for tissue conservation and to ensure the safe transport of blood samples, human tissue and other sensitive materials. It also has special applications in chemical and pharmaceutical laboratories.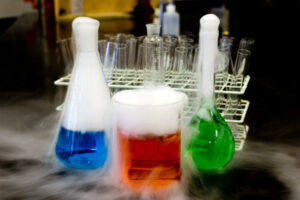 Dry Ice is used in school science projects to demonstrate its unusual behaviour. There's a range of cool experiments that involve fog, bubbles and freezing that show the unusual properties of Dry Ice.